"Woody Guthrie Way"
June 20, 2019
Mermaid Avenue street renaming ceremony to honor American folk musical legend!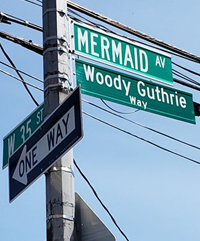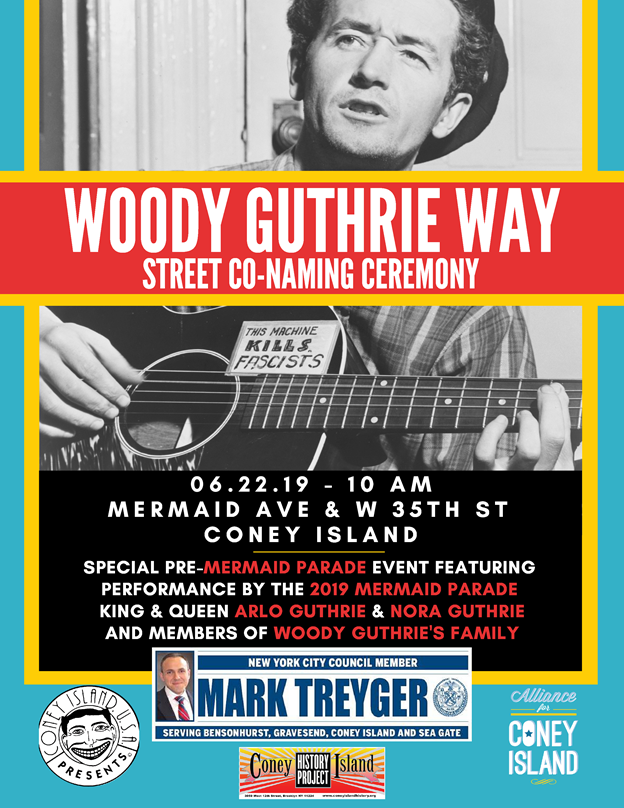 ---
Coney Island, the neighborhood that inspired many of Woody Guthrie's lyrics, poems and short stories, will honor the folk musical legend by hosting a co-naming ceremony on the Mermaid Avenue block where he and his family lived.
The Guthrie family moved to 3520 Mermaid Avenue in 1943. While in Coney Island, Woody was introduced to a diverse community of languages, religions and cultures; which he ingeniously reflected in his songs. From classics like DEPORTEE and HANUKA DANCE, to songs like RIDING IN MY CAR, inspired by his close relationship with his children.
Brooklyn's recognition of Woody Guthrie's life and legacy in the unveiling celebration of "Woody Guthrie Way" will take place on Saturday, June 22, 2019. Followed by Coney Island's annual Mermaid Parade – led by Woody's children, Arlo and Nora Guthrie, as its King Neptune and Queen Mermaid.