LEAD BELLY FEST!
February 04, 2016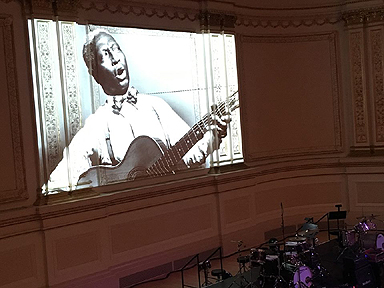 After debuting at Royalty Albert Hall in London, Lead Belly Fest came to New York City on Thursday, February 4, 2016.
Following are the artists and Lead Belly songs performed that niight:
Nick Moss with Michael Ledbetter: Didn't Old John Cross the Water, C.C.Rider
John Davis: Eagle Rock Rag
Dom Flemons: Po' Howard, Gwine Dig a Hole to Put the Devil In
Guy Davis: Bourgeois Blues
Tom Chapin: Rock Island Line
Midnight Special performed by the group and Guy Davis
Dana Fuchs: Gallis Pole
Ali Isabella (and ABC Children's Chorus on video): Take This Hammer
Edgar Winter: Good Mornin' Blues
Jerron "Blind Boy" Paxton: Green Corn
Eric Burdon: Where Did You Sleep Last Night?
Sari Schorr: Black Betty
Tom Paley: On a Monday